EMERGE
In April 2016, Bandhu was commissioned to design and construct a Rube Goldberg "Escape Room" by Arizona State University. This was part of a special event called "EMERGE," a kind of festival of the future, that ASU sponsors every year. The theme this year was "Sport 2040," and about twenty different "visitation leaders" created displays or events that reflected some vision for what sports might involve twenty-four years into the future.
Bandhu was brought in because of his experience with whimsical kinetic sculpture. After a group brainstorming session, Bandhu was asked to fill a 16 x16-foot room with a collection of crazy contraptions, puzzles and games of skill designed to challenge members of the public, who came through in groups of four. Participants were "locked" into the room and only by solving all the challenges in the allotted twelve minutes could they "escape." It was a lot of work to design and fabricate the many mechanisms, but Bandhu had a good time and so did the attendees at the event. In this gallery you will see steps in the creation of this walk-in kinetic sculpture, including a cheesy demonstration by Bandhu himself of one of the mechanisms, which involve puzzles to be solved as well as games of skill.
(All overhead images courtesy of ClutchPhoto)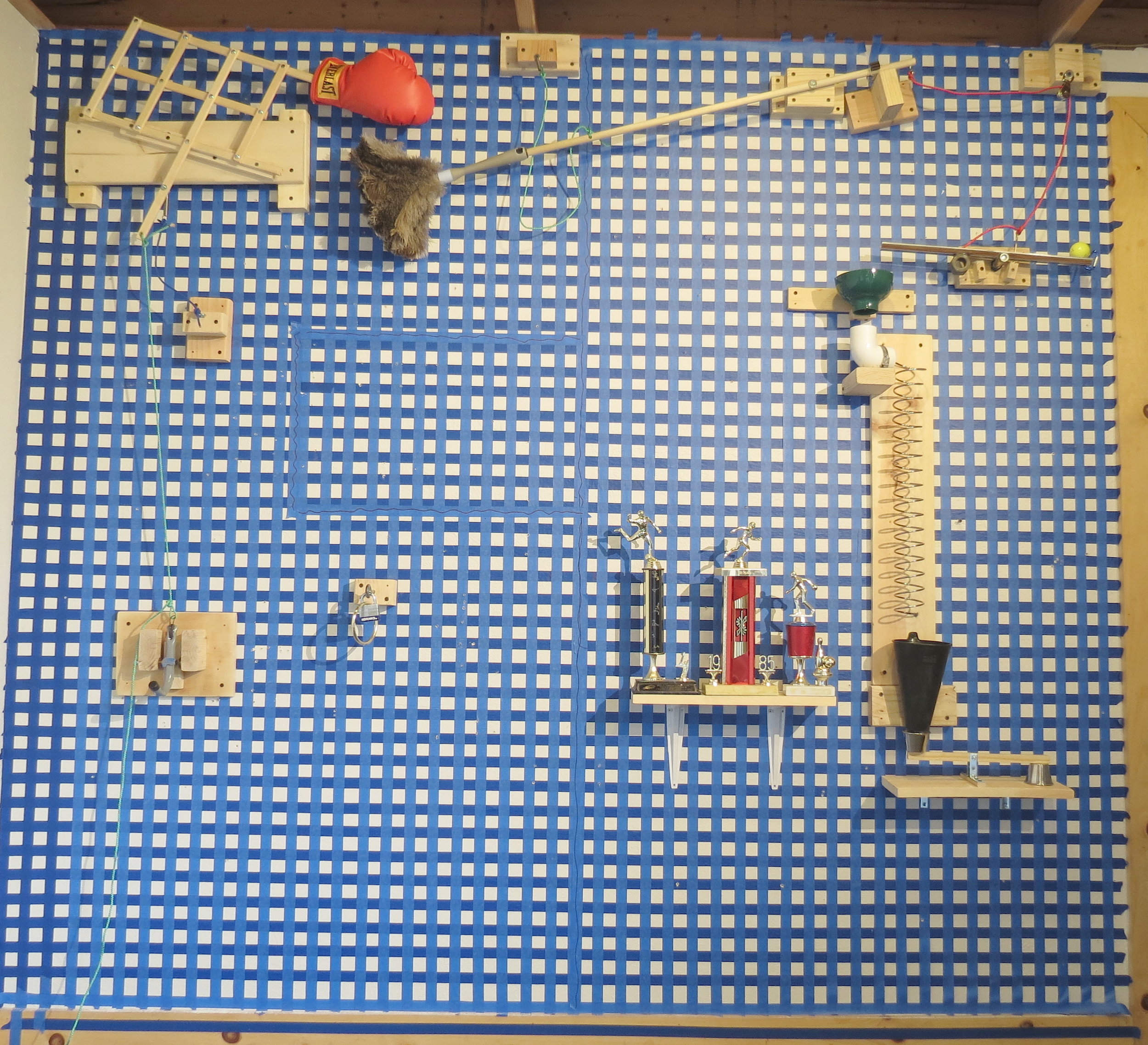 GANESHA
(Guard Against Negativity; Express Sane Healing Attitudes)
2018
Site-Specific Kinetic Installation
Approx. 12' tall x 6' wide x 4' deep
Stainless Steel, Glass, Motorized Elements
Bandhu Dunham, Designer
Ryan Murray, Fabricator and Consultant, www.ryanmurraystudios.com
Location:
The Melting Point Gallery
Sedona, AZ
www.the-melting-point.com

Artist Statement by Bandhu:
"This major sculpture was in the works for over three years. The client asked for a captivating marble machine that would integrate into an existing architectural feature on their gallery. After investigating a variety of options for designing and fabricating this piece, we settled on the current configuration. The main structure is stainless steel, with marbles and decorative elements made of glass, my usual medium.
"The marbles are 55 millimeters in diameter, and securely enclosed by the track structure, which weaves around the curving vertical elements already in place on the building. The marbles are lifted to the top of the track in three stages, using an Archimedes' screw elevator system. On their way down, the marbles pass through two coiling accelerators and activate three spinning glass rondelles which were created by the staff at the Melting Point. Some of the marbles contain UV-reactive colors, which are excited along selected parts of the track by blacklight.
"The effect on the viewer is a playful mix of contemplative fascination with bursts of excitement as the marbles make their way up and down the track. I enjoy seeing how much viewers of all ages and backgrounds are engaged by the simple drama of marbles circulating through a kinetic system. The key elements of art-as-experience are brought to life in this complex yet simple theatre. We are reminded of life's magic when we allow ourselves to be captivated by the colorful story unfolding before us. In the best case, the world looks a little different after we have spent some time watching one of my machines.
"GANESHA is more ambitious than any of my previous kinetic sculptures. While researching options and developing the chops to design this piece using 3-D modeling software, I was fortunate to meet Ryan Murray, a RISD graduate and accomplished designer working in metal, with the perfect set of skills to help bring this piece to fruition. Working from my design, he developed special techniques and equipment to make it a reality. His consultation on specific engineering matters and his aesthetic sense were also essential to the success of this piece.
"I took a while to settle on a name for this sculpture. As is often the case, when it came to me I wondered why I had not thought of it before, it was so obvious. I typically choose names for my marble machines that are acronyms for some phrase that interests me or which relates to my experience while making the piece. Sometimes it takes a while for it all to intersect in my mind. Ganesha is a Hindu deity with an elephant head, commonly referred to and enlisted as a bringer of good luck. His job is to remove obstacles—or more accurately, to manage obstacles for us. (Sometimes a good obstacle is just what we need for our growth or learning, and we wouldn't want it to go away prematurely.) Ganesha is also commonly invoked at the beginning of major undertakings or ceremonial endeavors to clear the way for a smooth process.
"The design and execution of this piece required me to learn from and overcome many obstacles and assumed limitations I held in my mind. One could say Ganesha was there helping me out from the beginning of this project, whether I knew it or not! When I was thinking about a name for this piece, I remembered that the owners of the Melting Point have a lovely statue of Ganesha in one of the studios, and it all clicked. The sculpture is not in any way a depiction of the elephant-headed deity, but the name gives honor to the spirit and energy he represents. The corresponding acronym is about how we might learn to relate to obstacles and limitations in our own mind, and how we can choose to make our lives and those of others a bit freer and more joyful. I feel this is a major function of art in the world, and a great message for Sedona: Guard Against Negativity; Express Sane Healing Attitudes."